Leith Hill, Dorking, Surrey RH5 6JZ
(Note Postcode is area only, and covers the few properties in area)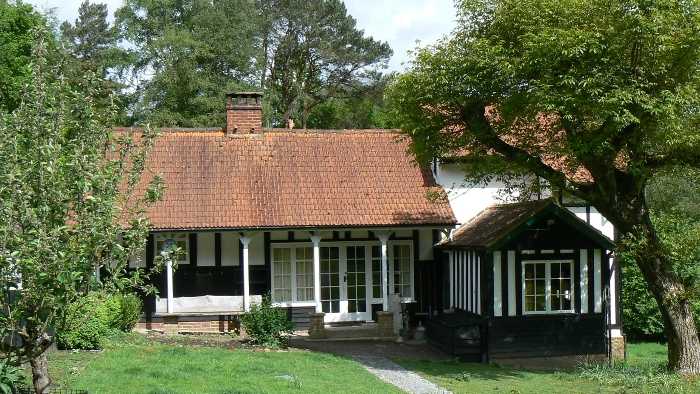 | | |
| --- | --- |
| 16 beds | 30 miles from central London |
| Nearest major route: A25 between Dorking and Guildford | Nearest station: Dorking (5 miles) |
From Dorking take the A25 and after going through Westcott, you will climb a hill to Wotton with "The Wotton Hatch" pub on your left.
From GUILDFORD, approx two miles from Abinger Hammer, pub on righ.
Turn left, a sharp corner, immediately before the pub [from Guildford, right after the pub] and follow the minor road (Sheephouse Lane) for about 1¼ miles. It is very narrow, bends a lot and has steep sections and then passing places.
Take the turning on the left signposted to Broadmoor and Heman Bunkhouse.
Go downhill and after a further ½ mile you will come to a couple of tracks leading off to the left as the road bends to the right opposite some stables.
Take the second track. There is a small sign "Private – Henman Basecamp" and specific other houses.
Follow this (bumpy) track for about ¼ mile until you come to a Y junction with a cottage on the left, and notice board on split.
Fork left and go between the buildings, the basecamp is on the left and the parking is on the right. At night, a security light will activate.
The basecamp was purpose built some years ago to a high standard with three bedrooms (4, 6 and 6), two washrooms, a lounge and a kitchen/dining room, with open fire as well as central heating. The kitchen, as a lower level is fully equipped with electric cooker, microwave, and fridge/freezer.
The basecamp is next to the Warden's house but otherwise is in the extensive wooded hills to the South of Dorking.
Link to NT website for leaflet on the bunkhouse.