We go to many places around London and throughout England and Wales. Some of these are at National Trust properties, working in the gardens or on the estate or in woodland or countryside owned by the Trust. Full details of future events are in our Programme.
Accommodation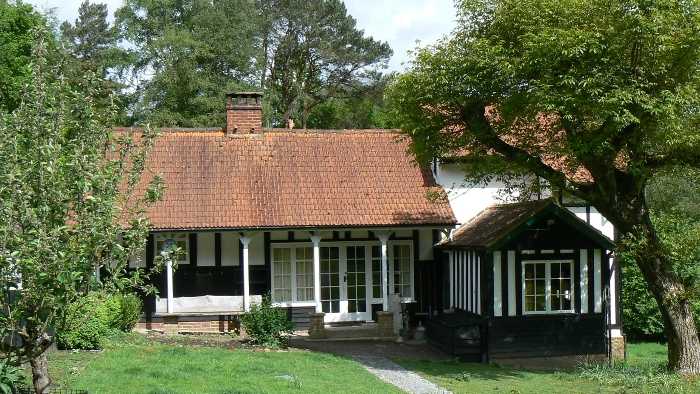 We stay in Trust owned bunkhouses (details are given in the programme) which are buildings that the Trust has converted for accommodation from former uses, such as estate offices, barns, and stables. A few have been specifically built for the purpose and get widely used. Nearly all offer shower facilities, bunk beds with mattresses (but no bedding – you need to bring a sleeping bag and pillow), full cooking facilities, crockery and cutlery and, most important for the winter months, are heated.
What do I need to bring?
Check out our kit list.
Travel arrangements
It's up to you to get to the event, usually on Friday evening to the bunkhouse specified in the programme.  Depending on location we often head to a nearby pub for an evening meal unless you have eaten earlier or don't want a drink.  Some meet us there, others will arrive early on Saturday morning.
Some drive to events, others use public transport, and sometimes when it's convenient car drivers are able to offer lifts.  If you get the train or bus, the event's leader will usually help out by arranging a lift with you from the station (message them directly), at around 7.00pm, or possibly other times if they're able.
We encourage car sharing, where it's convenient. LWM might be able introduce you to someone else driving to the event, depending on their route, for you both to work out the arrangements.  Offering some contribution to the cost of the journey is common, perhaps a share of the fuel, or some use 3 to 5p per mile as a guide, and a smile or some appreciation always goes a long way.
Work is all day Saturday, and on Sunday morning. Then, once we have cleaned and tidied the bunkhouse, you are free to head home, or enjoy the local National Trust properties – the tearooms & shops are often popular!  Leaders can usually give lifts back to stations where needed.
How much does it cost?
The cost of a weekend (usually £10) covers two cooked breakfasts (including cereal and toast), two packed lunches, tea break snacks and an evening meal on Saturday night.  Friday evening food is your responsibility, though we often visit a local pub.
The leader for the weekend works out the menu in advance (do tell us when you book if you have any special dietary needs, or allergies), and does all the shopping, but fortunately there are plenty of volunteers around to help with preparation for the meals – feel free to get involved.
The day tasks are free and it's up to you to bring along a lunch and drink to keep you going throughout the day.
It's always helpful to book on a weekend as far in advance as you can, although late bookings can be made if places are still available.  The details need to be known in good time to make sure work parties are a success.
Cancellations
If you have booked a weekend, and need to cancel, please let us know as soon as you can, ideally in the week before.  You will be refunded money for that event so long as you cancel before the deadline.
We appreciate though that sometimes life happens, and you'll be unable to make the event.  Generally though,  for cancellations after noon on Wednesday before the event, we'll be unable to issue a refund, because the money will have been spent on the costs of running the weekend.